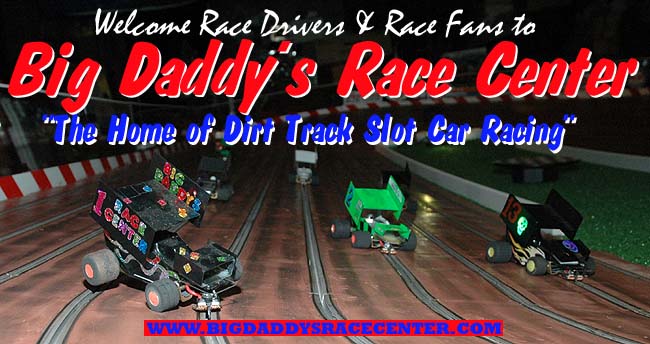 ---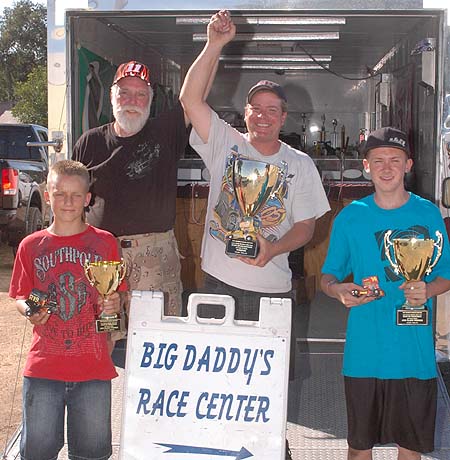 Top three finishers in the 1/32nd scale Outlaw Slot Car "Race of Champions" 40 lap main event held at Silver Dollar Speedway in Chico, CA. Big Daddy's Race Center Mastermind Steve Fuller congratulates 2007,2009 and 2011 winner Mark Sublett after he won his fourth "Gold Cup" and first back to back titles. Kyler finished second (right) and Jack (left) finished in third. (09-08-12)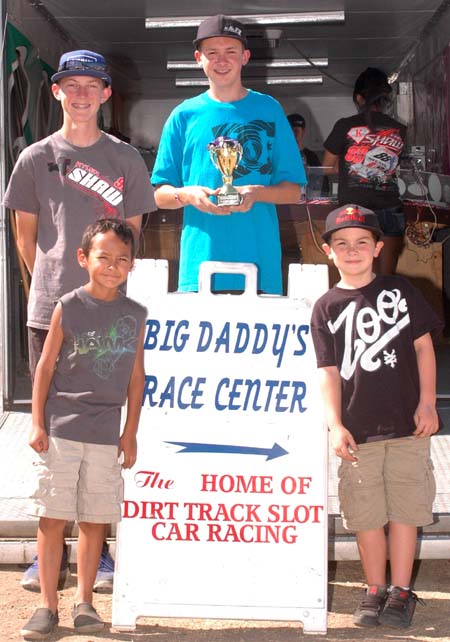 Top three finishers in the 1/32nd scale Jr. Thunder Slot Car "Race of Champions" 30 lap main event held at Silver Dollar Speedway in Chico, CA. Kyler finished first (center). (09-08-12)
---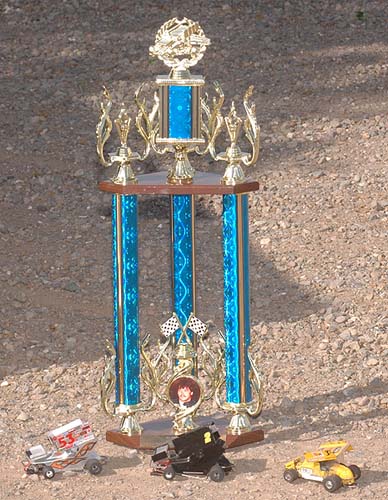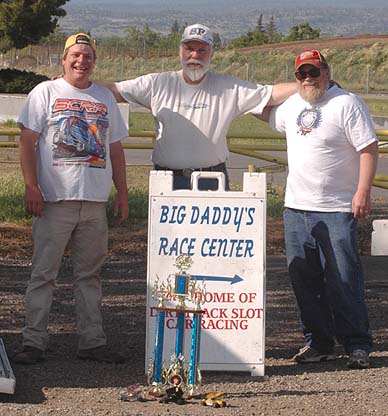 Top three finishers in the 1/32nd scale Outlaw Slot Car "Dave Bradway Jr." 40 lap main event held at Silver Dollar Speedway in Chico, CA. Big Daddy's Race Center Mastermind Steve Fuller raced to whe win with second going to Mark Sublett (left) and Bruce Bernardis (right) finished in third.
05-05-12

After a couple of rainouts earlier in the year 2012 outlaw slot car racing finally got rolling at Silver Dollar Speedway, Chico CA on May 5th. The 6th Annual "Dave Bradway Jr. 1/32 Scale Memorial Race" was held as is the custom, that afternoon, before the real race cars and race drivers hit the speedway later on that evening under the lights. Track conditions were near ideal with mild temperatures and a slight afternoon breeze. With the biggest annual North Central Valley spring sporting event taking place right there at Silver Dollar Speedway, it doesn't get much better!
Bringing home his first 1/32 scale Dave Bradway Jr. Memorial trophy in first place after 40 laps was "The Mastermind" of Big Daddy's Race Center from Hayward CA, Steve Fuller. Leading the field into the first turn it was none other than 3 time 1'32 scale Dave Bradway JR. Memorial winner out of Tracy CA , Mark Sublett followed by Fuller and Grass Valley CA race fan Bruce Bernardis. Several laps clicked off with Sublett pulling away from the rest of the field. As the cars strung out, Mark in 3db lost it coming out of turn 4 and with nowhere to go, Fuller in the black #2 "duce" ploughed into the left side of 3db in lane 4. With the top wing of 3db ripped off in the crash, Sublett returned to the rear of the field minus the top wing. Shaking out the cob webs, Benardis's # 53 took off in the lead on the single file restart hanging on for several laps out front. Mid race it was Fuller and Bernardis wheel to wheel both hungry for the their first Dave Bradway Jr. Memorial winner's trophy. Eventually Fuller took command over Bernardis with Mark Sublett working his way back up to a second place finish with an ill handling car.
We sincerely wish to thank our friends at Silver Dollar Speedway, Promoter Dennis Gage, Track Security VIP Pat Ponzo and the rest of the S.D.S. Staff for this very special opportunity to race outlaw slot cars at Silver Dollar Speedway and to help remember one of California's most beloved race drivers, Dave Bradway Jr.
Please take time visit Silver Dollar Speedway for the very best dirt track racing ever! See you at the Gold Cup!
---
10-22-11

Saturday afternoon Oct. 22nd "The Original Outlaw" was remembered at The Trophy Cup, the top 360 sprint car race in America. With race drivers entered from all across the USA for this great event we were honored by some "real" race car drivers that entered The 1/32nd Scale Jan Opperman Outlaw Slot Car Classic! Starting out with two 10 lap heat races and a 12 lap B Main, Fresno, CA 600cc micro sprint driver Kyler took the 20 lap Jr. A Main win over Knightson, CA quarter midget race driver, Colton Huelsmann and the Nelson brothers.
The 40 lap "Classic" got rolling with USAC photographer Mike Truex joining the Sublett Brothers and Ryan and Christopher Nelson in a slugfest. Ryan Nelson lead for several laps till a turn one roll sent him to the rear of the field. Christopher Nelson took over with Mark Sublett one or two car lengths back. Both Christopher AND Sublett spun out one after the other and rookie driver Mike Truex found the groove taking over the lead. B.D.R.C. Mastermind Fuller crept up through the field along with Mark Sublett. Eventualy Fuller faded several car lengths back and Mark Sublett coming on strong in 3db with a challenge for the lead. Lap 38 found pile ups at both ends of the racetrack with a two lap dash to the checkerd flag. Lap 40, the final lap The Mastermind lucked out with a hard charge getting through another pile- up taking his second Jan Opperman 1/32 Scale Outlaw Slot Car Classic win!
We wish to thank Thunder Bowl Raceway personell that made this event possible starting with promoter Steve Faria, Don Sharp, Trophy Cup V.I.P. Dave Pusateri and all the slot car racers that made this another great event at one of the most exciting sprint car race tracks in America.
---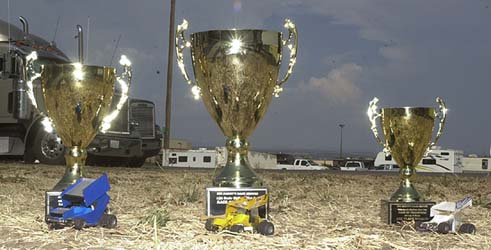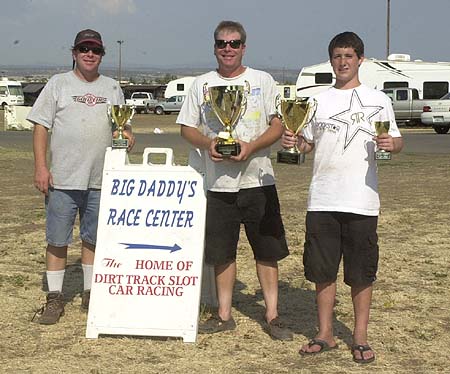 Top three finishers in the 1/32nd scale Outlaw Slot Car "Race of Champions" 40 lap main event held at Silver Dollar Speedway in Chico, CA. Second went to JR main Winner Taylor Arellao (right) and Matt Sublett (left) in third.
09-10-11

Mark Sublett pulled off another win at the Gold Cup! Backing up his 2007 and 2009 victories at this prestigious event it was no surprise to see Mark's famous 3Db outlaw slot car out front leading all 40 laps from green to checkered flags. Friday night preliminary action on the Big Daddy's Race Center 1/32 scale 1/4 mile dirt track in the teeny weenie AM hours after the 2011 Miss Gold Cup Bikini Contest had 2008 Dave Bradway Jr. A Main winner Taylor Arellao doing a good job picking up the 20 lap A Main win.
A good field of slot car racers turned out Saturday starting with thunder car heat races for the kids. Top three finishers in each 10 lap heat race transferred to the 20 lap Jr. A Main won by Fresno CA micro sprint racer Dustin. With the temperature hovering around the customary century mark track conditions were quite tacky. After two 10 lap heat races and a 12 lap B Main the 40 lap 1/32 Scale Outlaw Slot Car Race of Champions got rolling. Jumping out in front was Mark Sublett. Holding onto the lead through several restarts Mark took command of the race. Several wheel to wheel runs by Matt Sublett and Taylor Arellao to snatch the lead away from Mark's 3Db failed. Laps clicked off rapidly with only a few delays in the race. Several cars were parked after brining out the yellow or red flags twice in a row. Some cars fell off the pace and the last few laps Mark's 3Db went unchallenged to the checkered flag. The class of the field, 3Db has become the hottest car in outlaw slot car racing…not bad for a car that has been there from the first race back in 2005!!!! Mark has won this event three times now and is the only slot car racer to have won it more than one time! Congratulations Mark! Perhaps we need to start calling you "King of The Outlaw Slot Cars".
High lights included Placerville Speedway Champion and Civil War Sprint Car Series race driver David Robinson Jr. and son with an entry in the Jr. A Main race running an outlaw slot car built by the winner of Saturday night's 2011 Gold Cup Race of Champions winner Kyle Larson!
With another 1/32 Scale Race of Champions in the books we must thank our friends at Silver Dollar Speedway that made this event possible. Starting with Promoter Dennis Gage and our # 1 good friend at the speedway, long time auto racing official and S.D.S. Staff V.I.P. Pat Ponzo, the rest of the slot car friendly Silver Dollar Speedway Staff people and all the fans and slot car racers that have given us their support. Thank you! It doesn't get any better!!!!
Next race on the schedule is the Trophy Cup at Thunderbowl Raceway, Tulare CA…see you there for the Jan Opperman Outlaw Slot Car Classic Oct. 21 & 22.
---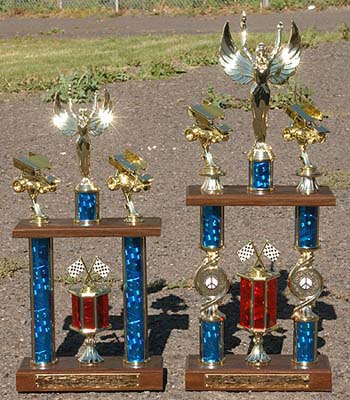 " The Great G.P."
The Great G.P. had a lot'a nerve…
Was an expert at negotiating every kind'a dangerous curve
Had nine lives just like a cat
Wore love beads and the peace symbol on his hat
Started racin' just for kicks
Won his first championship back in sixty-six
He'd win the A-main, his heat and the dash
And leave the racetrack with a pocket full of cash
He'd give the trophy girls a thrill
And hook-up later at the nearest gin-mill
Across the nation his reputation spread
Not just for being good in bed
Not for fortune but for fame
Dirt track racin' was The Preacher's game
First year of the Outlaws ran top ten in points
Along the way smoked a hell of a lot a joints
The Hostile Hippy raced "Down Under"
Raced with USAC "Lightning and Thunder"
Outlaw racin' from coast to coast
Even out-raced Great Caesars Ghost
Won the Gold Cup in seventy-seven
He's probably still racin' in Dirt Track Heaven
An outlaw racer he will always be
The Dancing Phantom, The Preacher,The Great G.P.!!!!
By Steve Fuller
Big Daddy's Race Center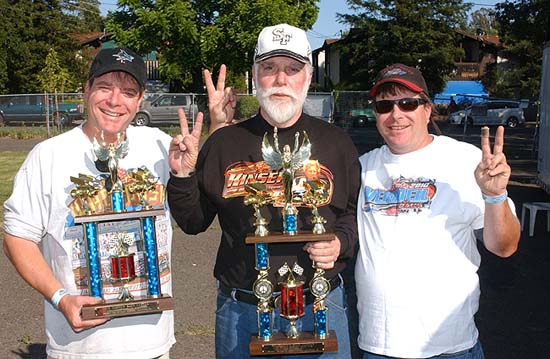 Big Daddy's Race Center Mastermind Steve Fuller (Center) won the 40 lap 1/32nd scale Outlaw Slot Car "GP Classic" main event held at Calistoga Speedway. Mark Sublett (left) finished second with brother Matt third.
05-29-11
With 410" sprint cars running the historic ½ mile Calistoga Speedway, Memorial Day weekend was a great time to remember a great race car driver. Gary Patterson was an "outlaw racer" back in a time when they used open trailers, unrestricted motors, wings and tires…in other words: "run what ya brung" style racing. Idolized by thousands of race fans "The Preacher" passed on into eternal fame 28 years ago in a terrible crash that went from turn four all the way down the front straight into turn one. Making the most out of the third B.D.R.C. "1/32 Scale G.P. Classic", The Mastermind…Fuller out gunned MM Photos Mark and Matt Sublett for his first "G.P. Classic" win. The 40 lap A Main started off on the first drop of the green flag with Mark driving 3db out in front for a good dozen laps or so till several lead changes shuffled the running order. Matt in car # 20 took over the lead for a lap or two in between Mark and Fuller slugging it out up front about mid race. Matt got the lead again one more time but Fuller in the Kyle Hirst # 6 car still had something left and slipped by into first place about lap 35. Going the rest of the distance to the checkered flag it was Fuller in first place followed by Mark Sublett in second and Matt Sublett in third.
We very sincerely appreciate the efforts of Napa County Fair CEO Carlene Moore and Fair Board Member/race car driver & friend Mike Benson. We would like to say thank you for this very special opportunity to remember "The Great G.P." and check out the speedway action. Please do yourself a favor and stop by Calistoga Speedway for some great dirt track racing!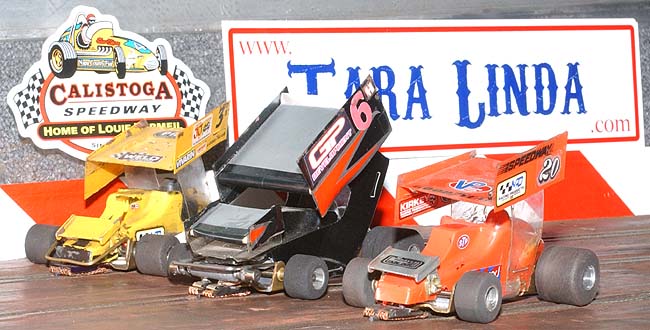 ---
---
---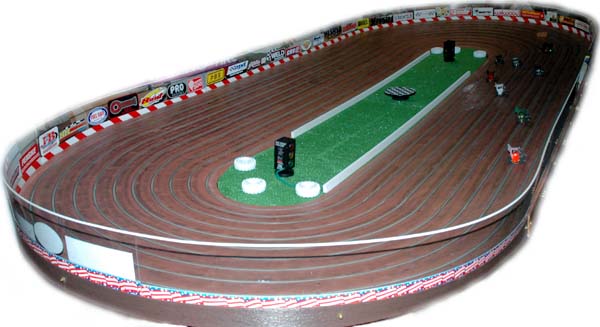 Big Daddy's Race Center's 1/32 scale 1/4 mile clay oval!!
FOR INFO. CALL 510-329-2817
---